Feisty tints of Desert Saffron, Bengal Pepper, Reggae Dusk and Manhattan Cocktail are favourites in our fall colour palette, creating gorgeous accents to the season's signature golds, greens and greys – and you'll find them combined to great effect in our autumn flower collection.
Bonfire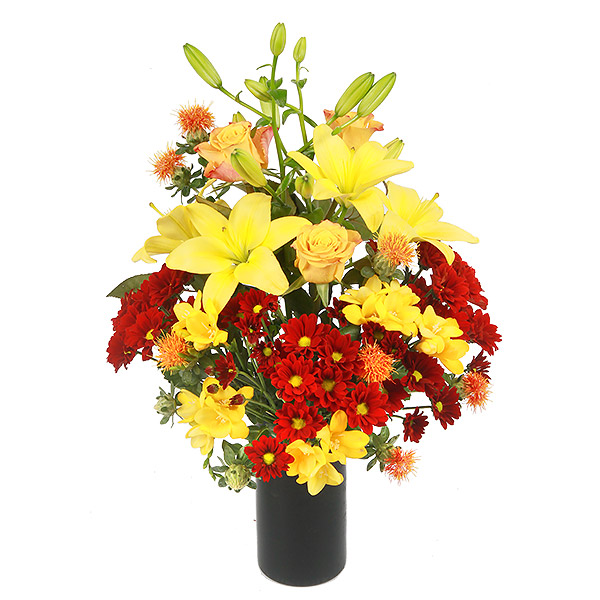 Hypnotic floral flames of yellow, orange and red dance majestically together in this classic autumnal bouquet. The scented freesias and lilies are stoked by fiery Carthamus and orange roses before being smothered by red Chrysanthemums. The Bonfire bouquet will get your autumn all fired up.
Was £24.99
Now
£19.99
Scented Pleasure
There will be no 'he loves me, he loves me not' with this bouquet of freshly scented daisy mums and orange lilies - every petal will scream out 'he loves you!' (We've even added some sunset-orange alstromeria so that you can ride off into the sunset together... aren't we thoughtful?)
Was £24.99
Now
£19.99
Abundant Harvest
As the days grow shorter the countryside comes to life harvesting the legacy of the summer months. This bouquet captures the spirit of that moment with bountiful Tom Pearce chrysanthemums, hypericum berries, red oak leaves, wheat, poppy seed heads and alstroemeria arranged beautifully in this harvest celebration bouquet.
Was £39.99
Now
£34.99
Fall Flora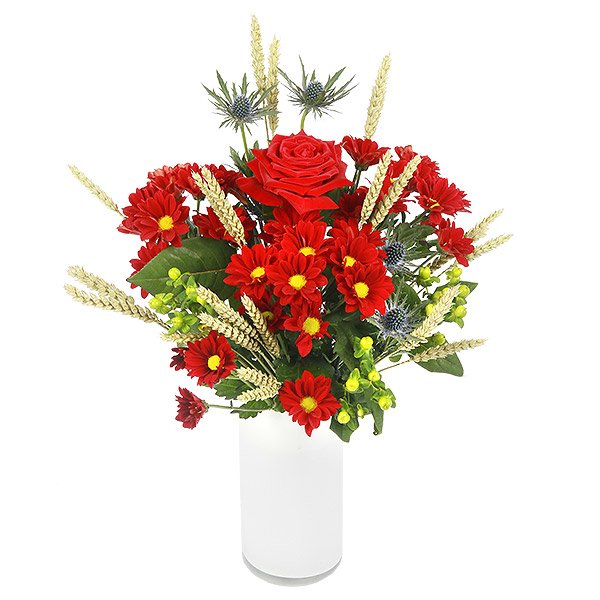 As the leaves turn and fall we celebrate the season with this pretty mix of chrysanthemums, hypericum berries, eryngium, wheat and a single red rose. Now the seasonal beauty can be gifted to a special someone of equal beauty.
Was £24.99
Now
£19.99
Morning Chill
There is always that first morning when you can feel the season shifting in the air, this bouquet encapsulates that moment and celebrates it. The beautiful white roses, stylish carnations, enticing alstroemeria and striking eryngium will warm anyone up on a chilly morning.
Our Price
£19.99
Chutney
This lovely bouquet filled with the autumnal colours of orange germini, red roses, scented freesia and red oak leaves will provide a lovely backdrop to all your condiment making this autumn. Note: Not to be used for actual chutney making.
Our Price
£34.99
Tweed Dream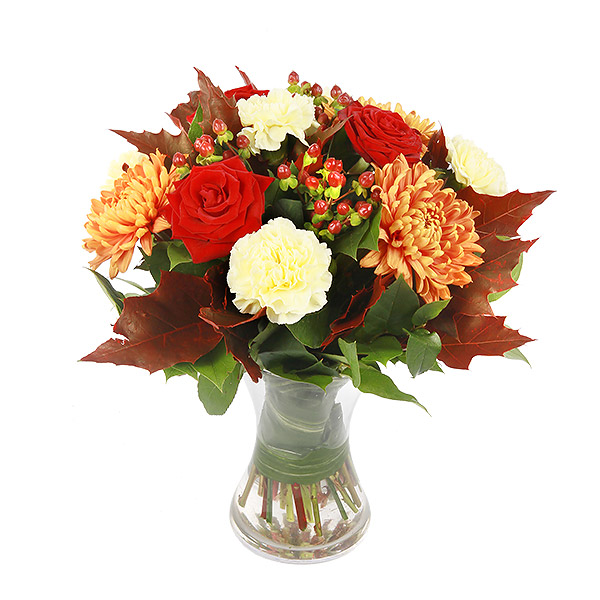 This bouquet is fashioned like a quintessential gentleman strolling through an autumnal landscape in a tweed jacket. Handsome Tom Pearce chrysanthemums, stunning red roses, hypericum berries, cream carnations and red oak leaves easily pull off the stylish look.
Our Price
£34.99
Heather
A purple haze of rolling hills and magnificent splendour that captures the imagination and ignites the senses. This pretty pink and purple bouquet of scented lilies, aster, chrysanthemums, lisianthus and statice will simply capture your heart.
Our Price
£34.99
Autumn Gold
A pretty and seasonal autumnal arrangement of Tom Pearce chrysanthemums, yellow roses and hypericum berries all presented in a rustic wooden container.
Our Price
£39.99
View all Serenata Flowers Voucher Codes