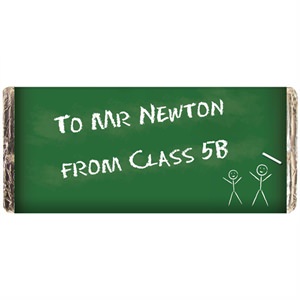 School holidays are rolling round again, and it's already time to think of the best way to thank the teacher who has helped guide the kids through another year at school. Personalised gifts are always a great way to say thank you, and gifts like this
Personalised Teachers Chalk Board Chocolate Bar
are made for occasions like this. You also can go wrong with a beautiful
Silver Pen And Personalised Photo Keyring
ring set, which is a great practical gift.
If you are looking for gifts from the whole class then we would recommend this lovely
Personalised Teacher Message Mug & Pen Set
, complete with a porcelain marker so that every child can add their message. We also have a similar offering as a lovely
Teacher Message Plate And Pen
, with more space for the kids to share a special message. You should also consider this lovely wooden
Gift Box Of Delights
personalised with a thank you message of your choice.
Back to the mug theme for a moment, have a look at these lovely sweet-filled mugs, with a customisable message, available for
Male
and
Female Teachers
.
If you would rather treat your teacher to something special then a
Bomb Cosmetics Bath Melts Chocolate Gift Set
will always go down well, or perhaps this brilliant
Sharpener Desk Tidy Deluxe
if you are looking to offer something practical.
Personalised Teachers Chalk Board Chocolate Bar:
Personalised Teachers Chalk Board Chocolate Bar
Silver Pen And Personalised Photo Keyring:
Silver Pen And Personalised Photo Keyring
Personalised Teacher Message Mug & Pen-Pink:
Personalised Teacher Message Mug & Pen-Pink
Personalised Whiteboard Teacher Message Plate And Pen-Pink:
Teacher Message Plate And Pen
Personalised Gift Box Of Delights - Thank You:
Gift Box Of Delights
Personalised Male Teachers Mug:
Male
Personalised Female Teachers Mug:
Female Teachers
Bomb Cosmetics Bath Melts Chocolate Gift Set:
Bomb Cosmetics Bath Melts Chocolate Gift Set
Sharpener Desk Tidy Deluxe:
Sharpener Desk Tidy Deluxe
View all Find Me A Gift Voucher Codes