Take a look at the Baker Ross range and you will be sure to find lots of toys which kids will love to unwrap on Christmas morning – these toys and thrilling stocking fillers make great prizes at Christmas parties too. Christmas, of course, isn't just about receiving – children will love our Christmas card ideas as making and sending personal messages of good will is so much more satisfying than sending a pre-prepared card.
Christmas Products at Baker Ross
Christmas Foam Stickers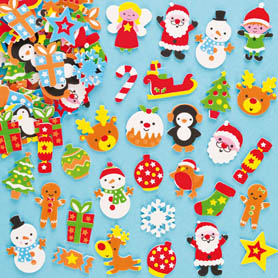 Fabulous foam stickers for Christmas crafts, card making and decoration. 30 assorted designs. Size approximately 35mm-50mm. 120 stickers per pack.
Per Pack
£2.99
Per 3 Packs
£8.25
Nativity Story Wheels
Tell the nativity story with your own story wheel! Pre-printed wheel to colour with our Deco pens and then assemble before spinning to learn about the events surrounding the birth of Jesus. Size 23cm.
Pack of 3
£1.98
Per of 15
£9.00
Nativity Foam Stickers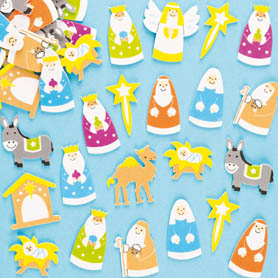 Tell the Nativity story with these fun foam stickers! Suitable for crafts and decoration. 12 assorted designs. Size approximately 50mm. 120 stickers per pack - making 10 nativity scenes.
Per Pack
£2.99
Per 3 Packs
£8.25
3D Reindeer & Sleigh Foam Kits
Make your very own Rudolph and Santa's sleigh! Simply slot the foam pieces together - no need for glue - and decorate with the wiggle-eyes and self-adhesive foam shapes provided. Contents not included. Finished sleigh size 18cm x 10cm. Age 5+.
Pack of 2
£2.50
Pack of 10
£11.00
Christmas Tree Advent Calendars
Colour in the big countdown to Christmas! 2-part Christmas tree window calendars with fun designs on the top and bottom sheets. Colour with our fibre pens. Comes with gold hanging cord. Finished size 295mm x 200mm.
Pack Of 6
£2.99
Pack of 30
£13.50
Christmas Stocking Sewing Kits
They'll have these sewn up in no time! Felt Christmas stockings to make and display. Each kit contains a 21cm pre-cut felt stocking, self-adhesive felt decorations, pom-poms, wiggle-eyes, ribbon, plastic needle and wool. 3 assorted. Age 5+.
Pack Of 6
£3.60
Pack of 30
£16.50
Festive Ribbon Spools
A sparkling selection of festive curling ribbon suitable for gift wrapping, decoration and festive crafts. 4 reels per pack in assorted designs. 4.5m per reel.
Per Pack
£1.50
Per 3 Packs
£4.05
3D Foam Christmas Tree Kits
You'll be 'rockin' around the Christmas tree' with this fabulous 3D foam decoration! Each kit contains pre-cut foam tree and pot, coloured foam pieces, sequins and instructions. Size 14cm.
Pack of 4
£3.80
Pack of 16
£14.08
Christmas Keyring & Bag Dangler Kits
Carry the Christmas magic wherever you go! Make festive wooden keyrings and bag danglers with these easy to make kits. Each kit comes with wooden character bead, coloured beads, cording and split ring. 4 designs. Character bead size 45mm. Age 5+.
Pack of 4
£2.99
Pack of 16
£10.88
Christmas Colour in Pom Pom Decorations
How great will these look on the tree? Kids will have lots of fun colouring in these pom pom hanging decorations. 12 festive designs to colour in and decorate with a sparkly pom pom. Approximate size 10cm. Silver hanging cord included.
Pack of 12
£2.99
Pack of 36
£7.92
View all Baker Ross Voucher Codes